Alyssa Ward, Ph.D., LCP
Virginia Department of Medical Assistance Services & Virginia Commonwealth University School of Medicine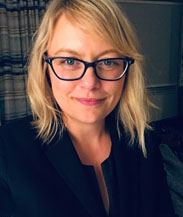 As the 2019 Program Chair, I welcome you to our 53rd Annual Convention with enthusiasm and hope that this year brings us one step closer to our mission and the goals that bind us together. ABCT is committed to enhancing public health and well-being through the application of science, and that promise is reflected in our theme for 2019: "Wisdom of Purpose and Perspective: Extending the Social Impact of Cognitive Behavioral Science." Working in leadership at a state Medicaid program, I am immersed each day in decisions that drive the social impact of our collective work on a systems level. In Virginia we are implementing a radical redesign of our system to create an evidence-based, trauma-informed, and prevention-oriented array of behavioral health services to our members, who even with expansion are largely women and children. The work of translating scientific findings to policy and regulation is not one that our graduate training traditionally prepares us for, and I believe we have opportunities in organizations such as ours to support the development of critical skills in this area towards expanding our impact. I have brought the passion that fuels me in my work as a public servant to this role as your Program Chair, and it has been my honor to serve our organization in this way.
Developing a program around this theme has been timely as we are convening in a state that has recently passed legislation significantly limiting women's reproductive rights. Many within our organization have voiced concern for the impact of these regulations, our meeting occurring in this state context, and the rights and experiences of women both in our organization and in our world. As Program Chair, it has been my role to work with our committee to consider how we can address these concerns within the relatively relevant program we have sought to create over the past year.
We have some exciting programming specific to the impact of CBT on public health. We are humbled to be joined this year by both international and domestic experts who have made large-scale impact on service systems and vulnerable populations. Dr. Sonja Schoenwald, a trailblazer in the dissemination and implementation of treatments for youth into complex community-based settings, will facilitate a panel discussion involving Ileana Arias, Richard Puddy, and Craig Thomas from the Centers for Disease Control and Prevention. Dr. Vikram Patel is a Harvard psychiatrist whose ground-breaking work has focused on reducing the treatment gap for mental disorders in low-resource countries. He was recently awarded the John Dirks Canada Gairdner Global Health Award, a prestigious honor given to the world's top scientists in global health. His TED Talk on "Mental Health for All by Involving All" has over 1 million views and in 2015 he was named by TIME Magazine as among the world's 100 most influential people. He will be speaking with us on building our workforce to promote global delivery of services. Dr. Matthew Sanders joins us from Australia where over the last four decades he has built an international reputation as a clinical researcher developing treatments that address childhood behavior problems and promote stronger families. Professor Sanders' Triple P parenting system has now helped approximately 4 million children and their families. It is used in more than 25 countries and has been translated into 21 languages other than English. More than 75,000 practitioners have been trained it its delivery. He will be speaking with us about his transformational body of work and future opportunities for social impact.
Following the passing of the abortion legislation in Georgia this summer, we worked creatively with our committee to develop an additional invited panel to bring attention to the pressing issue of using psychological science to responsibly inform and advocate policy and regulation development, with special attention to the local context here in Atlanta. We are so grateful for the fast, flexible, and thoughtful efforts of our esteemed colleague and long-time ABCT member Dr. Lynn Bufka, the Associate Executive Director for practice research and policy at the American Psychological Association, and support from our Local Arrangements Chair, Dr. Leah Farrell-Carnahan. This panel will include a diversity of speakers, including women's rights advocates representing the local climate who will address the topic "Realizing ABCT's Mission in a Politicized World."
Finally, in his presidential address, Dr. Bruce Chorpita will speak to us about maximizing the reach of cognitive and behavioral science through strategic coordination of individuals, institutions, and industries.
This year you will notice that we have made some innovations in our program process:
This is the first year that we have offered child care services at our convention, and we thank the ongoing advocacy of the Women's Issues SIG and the on-the-ground work of Stephen Crane for this addition. We are committed to making the ABCT an inclusive experience for members who are caregivers and travel to the convention with their families. For the 4th year, we will have a lactation room available for nursing and pumping attendees.
We invite you to join us for an Instagram-worthy moment at our Mission Wall near registration, where we all have an opportunity to share how YOUR WORK enhances health and well-being. Contribute, post, and share to social media with the hashtag #ABCT2019Impact.
For the first time ever, you will be able to VOTE at the convention! We hope that this will significantly raise our voting participation rates. Look for details in the registration area.
Submitters noticed that the Cadmium system had several updates this year, including the ability for you to send notices to co-authors for them to complete their own information in the site. We also worked with great care to revise the categories for submission this year, to assure equity so that each Special Interest Group had an aligned category. We also have edited the key words for the program and encourage you to think of these as #hashtags that mark a label for each submission to ease the identification of content relevant to your interests.
The forests of the world rejoice, as this is the first year that we will not have a printed program book and will ask that you rely on the PDF version available, the convention planner, and the smartphone application for navigation of this experience.
We are also testing out a new poster template, developed and made internet viral by a psychology trainee. This new template is intended to improve the presenter and attendee experience, and we will be looking closely at your feedback on this to determine future directions.
We are grateful to the esteemed Dr. Judith Beck, who will be providing a workshop on CBT for depression worth 3 CEUs on Sunday, for free! This session will be geared towards students but all are welcome.
It has been my privilege to serve as your Program Chair this year, and I am grateful to my mentor Dr. Bruce Chorpita and the ABCT Board for entrusting me with these duties. I would like to extend a special note of appreciation to Dr. Cameo Stanick, an ABCT colleague turned dear friend, for her support as program assistant. Further, Dr. Chorpita deserves an extra helping of thanks as he rolled up his sleeves (as always) and stepped in to support me during one of the most demanding periods of work when Dr. Stanick had a family emergency. I also would like to thank Dr. Kiara Timpano (2018 Program Chair) and Dr. Katharina Kircanski (Coordinator of Convention and Education Issues and 2017 Program Chair) for their validation and camaraderie. This year I celebrate my 15
th
year at ABCT and I have to thank Dr. Mike Southam-Gerow for first encouraging me to attend and for his steady support and keeping me laughing for nearly half my life now. This program comes to you via the substantial efforts of virtually hundreds of our members who have contributed to its creation. This includes first the 2019 Program Committee for their expertise, careful reviews, and flexibility during the peer review process. This year we surpassed last year's record number of reviewers, with over 350 members participating in the peer review process and 126 "Super Reviewers," and we simply would not have a convention without their dedication and service. I also thank the chairs of the Convention and Education Issues Committee for their tireless work and exceptional job developing this year's excellent program: Brian Baucom (AMASS), Lauren Weinstock (Workshops), Courtney Benjamin Wolk (Master Clinician Seminars), Cole Hooley (Research & Professional Development), Christina Boisseau (Institutes), and Shannon Wiltsey-Stirman and Dan Cheron (2020 Program Chair and Assistant Program Chair). I have worked for years with ABCT's central office, particularly during my tenure as Chair of the Women's SIG as we worked to implement a lactation room. However, I have never been so closely tied to Mary Jane Eimer and the central office team-especially the steadfast Stephen Crane-who showed devotion to developing the best convention possible. Finally, I am forever grateful to my husband, Geoff, and my two young daughters, who have cheered me on and patiently tolerated the many hours that I spent in dedication to ABCT this year.
We hope that you experience this as an engaging convention that inspires new scientific collaborations that increase our collective impact! Thank you for joining us in Atlanta.